Samana town
Hotels
The town of Samana has a good choice of small economical hotels for all budgets and taste
These better small Hotels are located right in town within a short walking distance from the Malecon, Marina and Bay of Samana.
Also find some unique lodging a few kilometers from town!
Lodging in Samana Dominican Republic - Unique Lodging at Playa El Valle.
Exclusive Lodging
Casa El Valle
Next to the beach!
Staying at Casa El Valle offers not only the beautiful jungle and beach life, but also the chance to be immersed into the culture of Samaná and the Dominican Republic. The town is located between two mountains… See More
Samana Town Hotels in Dominican Republic - Cheap Hotels in Samana Town.
Downtown Samana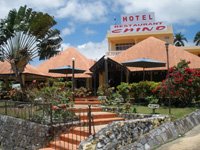 Chino Hotel and Restaurant
Overlooking the Bay of Samana
This new and modern Hotel is very well located right in the heart of town overlooking the Marina, the Malecon and the Bay of Samana. Air conditionned, Hot water and cable Color TV. 2 Minutes walk to everything! See More
Aire y Mar Aparthotel
In quiet Samana Hills
Small, quiet and intimate Apart Hotel located in Samana hills. 6 Well appointed rooms, some with AC to choose from. Spectacular view on the Marina and Bay of Samana. Complete shared Kitchen, Cable Color TV, Veranda with great views! See More
Samana Spring Hotel
In the heart of Samana Town
Top rated Hotel in TRIP ADVISOR with 16 Large well appointed rooms with Queen Size Beds, nicely located just 200 meters from the famous Malecon and the Bay of Samana. Free WIFI, Air Conditioned, Hot Water and Cable Color TV. See More