Apartments, Houses and Condos for Rent in Samana
These furnished
Vacation Rentals are
well located in
beautiful seaside
Samana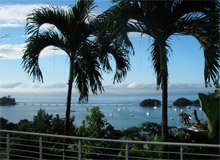 A truly spectacular view of the Bridges of Samana from up in the lush Samana Hills.

Breathtaking sunrise in Samana City viewed from the surrounding hills.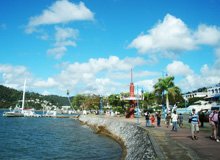 The beautiful scenic walking waterfront boulevard called "Malecon" of the small town of Samana.
The lush virgin Samana Peninsula viewed from the Hotel Cayacoa in Samana City.
Apartments, Homes
& Condo Rentals
The town of Samana offers a good choice of Vacation Rentals for a short stay of a few weeks, months or all year long.
These are the better quality lodging options located in and around the center of the town, within walking distance of everything.
You will find near by all the restaurants, shopping, malecon, marina and the spendid bay of Samana.

Some of them are located a few kilometers
away from Town.
Alta Vista Apartments




Beautiful view of Samana Bay


Alta Vista Apartment Rentals for Long Term stay or Short Term vacation. Fully furnished Apartments of 2 BEDROOMS with Air Conditioning, Appliances, Cable Color TV, Pool with Patio area and Wifi Internet. Veranda with superb views of Samana Bay.
Alta Vista

Trade Winds Vacation Rentals




Home & Apartments in Samana


Trade Winds Rentals offers 1 Fully Furnished Home with two bedrooms and 6 Apartments for your Vacation in Samana. Pool, AC, WIFI and Private gated parking. Excellent location 100 Meters away from Playa Anadel beach, only a few minutes to Downtown Samana.
Trade Winds

Buchen Apartments




Apartment Rentals in Samana Hills


Located on top of beautiful Samana Hills. Buchen offers 4 fully furnished Apartments with Patio area, Pool, Color TV and AC. These Apartments rentals for short or long term stay have a truly spectacular view on the Marina, the Town and the famous Bay of Samana.
Buchen

Aire y Mar Apartment Hotel




In beautiful Samana Hills


Small, quiet and intimate Apart-Hotel located in one of the best neighbourhood : Samana Hills. 6 well appointed rooms for short or long term stay. Spectacular view on the Marina and Bay of Samana. We have also 1 private apartment available.
Aire y Mar

Condominiums The Cove
Vacation Rental near Samana City
The Cove condos are located a 15 minutes drive from Samana City. Large Condominium units of 1350 square feet, Air Conditioning, Pool, Washer & Dryer, 2 Bedrooms, 2 Baths and all Kitchen & Linen accessories. Oceanfront living on a beautiful beach in a natural cove setting.The Cove
Oceanfront Luxury Home for Rent
Exclusive Vacation Rental in Samana
Oceanfront Luxury Home for rent at The Cove in Samana Peninsula. 4000 Square feet of pure luxury for your family or friends vacation in Samana. 4 Bedrooms, 5 Bathrooms, Sleep's 10 persons. AC, Washer & Dryer and Private Pool. Exclusive setting right on the Ocean.See More
Apartments for Sale Samana Dominican Republic.
Apartments for Sale
Bahia Blue Apartments




Apartments for Sale in Samana


NEW 2013 Apartments for Sale in Samana Dominican Republic. Apartments of 1 Bedroom, 2 Bedrooms and a Penthouse for Sale in Las Pascualas located 10 Kilometers from the town of Samana. 100 Meters from the Beach. Prices starting at only $75,000 USD.
See Website

Go Samana - No.1 Source of Tourism Information about Samana