Samana
Dominican
Republic
Cruise Port
Activities &
Attractions.
Many Excursions
and Activities :
Cascada Limon,
Los Haitises Caves
and Mangroves,
Playa Rincon,
ATV Four Wheels,
Safari Expedition,
Sailing Catamaran,
Playa el Valle,
Cascada Lulu,
Whale Watching,
and Scuba Diving.
Excursions starting
from the Port of the
Town of Samana.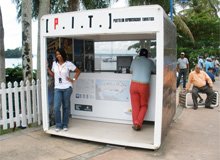 Cruise Ship Visitor Information
Look for the Information Booth from the Dominican Ministry of Tourism right there at the Port of Samana

Cruise Ship visitors coming to shore
for the day to Explore Samana.

Boca del Diablo - Devil's Mouth
on the Peninsula of Samana.

The large Humpback Whales
migrates every year to Samana
to reproduce and give birth
from January 15 to March 31.

Cruise Ship at anchor next to
Cayo Levantado island visiting
Samana for the day.

Many Boats will take you from the
Port of Samana accross the Bay
to visit Los Haitises National Park
Caves and Mangroves.
Tours, Excursions
and Activities
Things to do and Things to see
for Cruise Ship Visitors in Samana Port
Dominican Republic.
Catamaran Sailing, Whale Watching, Waterfalls Swimming, Scuba Diving, Caves & Mangroves, Safaris, ATV 4 Wheeler Adventures, Playa Rincon, Boca del Diablo, La Playita, Playa el Valle, Cascada Lulu and much more.

Find out all Private & Independent Tours for your Cruise Ship !
Gregory Tours Samana
Best Low Price PRIVATE Excursions
Gregory Tours offers 10 PRIVATE Excursions & Tours all over the spectacular region of Samana Peninsula & Samana Bay. We are located at the beach of CAYACOA Hotel and our highly satisfied clients have written over 100 TOP REVIEWS about us in TRIP ADVISOR.
See Site
A1 Shore Excursions in Samana




Private Cruise Ship Tours in Samana


A1 Samana : Best Private Shore Excursions all over Samana Peninsula in Dominican Republic. Discover with us the Best Tours from Samana Port : Playa Rincon Beach, Waterfall El Limon, La Playita Beach & Las Terrenas Beaches.
Always with FREE DRINKS on board ! Cheers ! See Site

OPTIMA Private Tours in Samana




Private Sightseeing Tours in Samana


Private Sightseeing Tours for your Cruise Ship in Samana Port to : Limon Waterfall, Playa Rincon Beach, La Playita Beach, Las Terrenas and the famous Samana Zipline ! Unbeatable LOW PRICE TOURS in Samana for your group of 2 persons or more.
See Site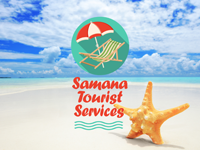 Samana Tourist Services™
Best Excursions and tours in Samana!
Do The Best Excurions and Tours all over Samana Dominican Republic with us!
ATV Tour, Whale Watching Tour, Zipline Tour, Playa Fronton + Playa Madame + Playa Rincon Tour, Los Haitises National Park Tour, and much more! Visit our website for all details :See Site
Tauro Tours & ATV Adventures




Knowned before as Razor Tours


Tauro Tours and ATV Adventures is a leader in Tours and Excursions all over the beautiful Samana Peninsula and in Samana Bay. Melvin Moya, owner and expert guide of Tauro Tours will take you on memorable journeys all over Samana.
See Site

Tour Samana With Terry
Explore the Peninsula and the Bay
Terry came to the Dominican Republic in 2002 to do volunteer work and fell in love with Samana. Since then he has learned very much about the area and the people. Now Terry offer the highest rated Excursions and Tours to every corner of the Samana Peninsula. See Site
Moto Marina Tours




Boat Tours & Maritime Excursions


Moto Marina Tours is the No.1 Boat Tour Company in Samana since 1986. Boat Sightseeing Tours & Excursions to Cayo Levantado Island, Los Haitises Park and Whale Watching. The Most Modern Fleet of 13 Boats, Speed Boats and Sailing Catamaran. See Site

Marivanna Tours




Maritime and Land Excursions


Marivanna Tours is offering a wide choice of both maritime and land excursions. Owner of 4 boats of 34 feet, owner Julio Ynirio will take you and your group to see Cayo Levantado island, Los Haitises National Park or Whale Watching.
See Site

Zipline Samana - Walk The Plank




Samana New Activity & Attraction


Walk The Plank - Best Eco Adventure in Samana. One of the Most Amazing Zipline in the Caribbean. 14 Stations and Over 7000 Feet long ! Come Live an Unforgetable Adventure in Nature right here in El Valle on the Samana Peninsula !
See Site

Cayenas del Mar Beach Club




Cruise Ship Tours & Activities


Cayenas del Mar offers Activities and Tours for your Cruise Ship with a great Beach Day and Day Pass at their fabulous Beach Club in Samana. A few minutes away from the town of Samana on 1 kilometer long Playa Anadel.


Visit our website for more details.


See Site

Whale Watching Tour in Samana




Kim Beddall of Whale Samana




Kim Beddall, Canadian animal advocate and conservationist, has been guiding Whale Watching trips in Samana since 1983. Kim has been instrumental in transforming Samana into one of the World's Top Ten destinations.


See Site

Diving & Watersports Center




PADI Scuba Dive Shop in Samana


Scuba Diving & Watersports Center located right at the Port of Samana. Our certified PADI Instructors will take you at the Best Dive Spots in and around Samana. Explore Great Diving in Samana, Dominican Republic with us at H2O & Ozeanic Caribbean. Dive Shop

Go Samana - No.1 Source of Tourism Information about Samana